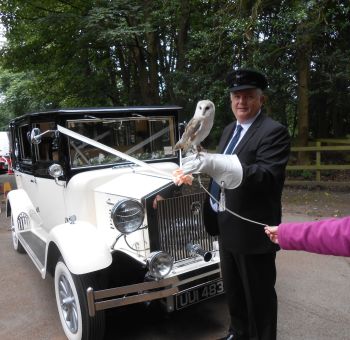 We like to tailor our Wedding Packages to whatever is required on the day, however this is what most couples opted for:-
Diamond (barn Owl ) to deliver the ring/rings to the best man so that the groom can receive them.

The ribbon securing the rings to Diamond will be the same colour as the Brides outfit.

Diamond will fly over the congregation to deliver the rings

Once the rings have been delivered the owl will fly back to the Falconer over the congregation.
We will bring an array of Birds on the day, Hawks, Falcons and Owls for the Bride, Groom and the Congregation to have those special photos taken for their wedding album.
Additional to this we can also carry out hands on flying displays.
Please contact us to discuss your requirements. Call - 01623-824440